India has huge demand for electricity. Coal deposits are depleting day by day and our hydro electric projects and dams are costing a lot and many of have them have not seen the light of the day. They are on paper for the past several decades.
While the whole country is reeling with power crisis Gujarat is the only state which has excess power and is selling to other states. The villages get 24 hour electricity and a dedicated line for their irrigation purposes.
When PM Manmohan Singh announced National Solar Mission - the idea was that within the next few years our electricity production from renewable sources must increase to
15%. It now stands at 6%
. Currently 2/3 of 900MW that is being generated from solar energy comes from Gujarat. It has become the home of close to 10 largest solar parks in India followed by Rajasthan and Maharashtra.
While the PM fought for his prestige claiming that Indo-US nuclear treaty will bring electricity the plan is still on paper. Nuclear energy is expensive and requires great precautions. Solar on the hand is emission-free, pollution-free and natural. Per unit cost of solar was about Rs.15, but Gujarat has reduced to Rs.8.5 a price close to thermal power sources.
14 months ago several US companies laid down the proposal to set up a solar park - one that also houses largest photo voltaic plant in the world. 14 months later the park is open, is the world's largest and capable of producing 600MW. The state government has already connected this park to its electricity grid. This park alone can prevent
8mn tonnes of CO2 emissions
every year.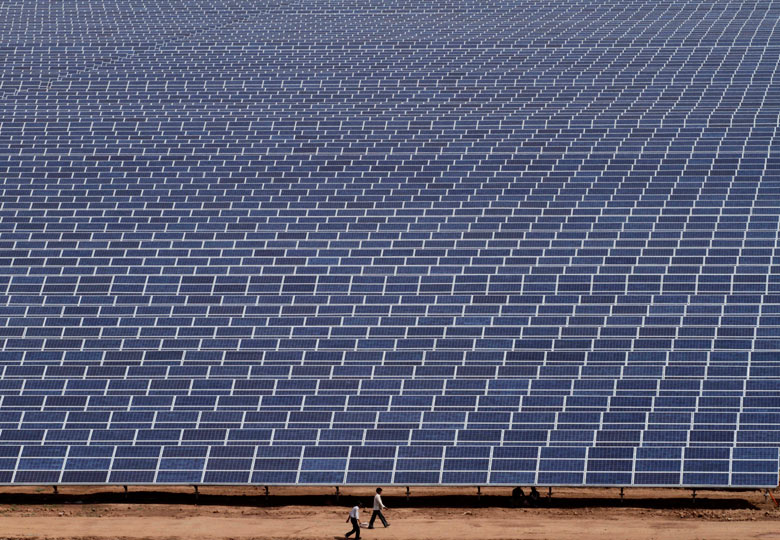 Watch this interesting video that shows how the place has been transformed as an economic boom city because of this solar plant.
2000 hectares of land at Charanka is now larger than one in Golmud Solar Park in China that can produces 200 MW. Charanka is on the border of India bordering Pakistan. As this businessgreen report says that Charanka receives 330 days of sunlight and there could have been no better place than this to tap sun's energy. What a way to go to tap a natural source!!
The other important innovative project that has taken shape is covering of Narmada canal with solar panels that serve twin purpose - generate solar energy and prevent water evaporation. This is the first of its kind in the whole world.

Of course there is also a proposal where residents can put solar panels on their rooftops and then sell the electricity to Gujarat government. Not very sure how this would successfully work.
One thing is sure. More projects of this kind can only lower price of solar energy making it more affordable.
Why can't rest of India learn from this? Why not Indian Government seriously invite private players more aggressively to do something like this? After all there are so many such Charanka's in India even if they don't receive sunlight for 330 days.

Image courtesy: Google